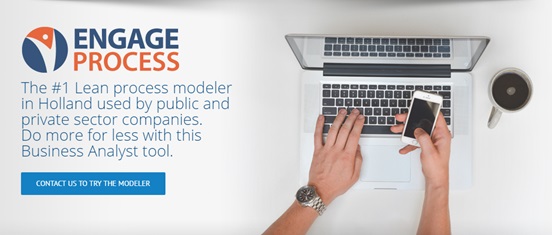 When it comes to business process modelling, Engage is one of the leading software names that come to mind. This software used by the private and public sectors sets out modestly to claim that it is the number one lean process modeller in Holland—and it's not an empty boast.
Engage packs a range of features that go beyond the basics. It certainly is way better than Visio as far as process mapping is concerned. It can justifiably claim to be one of the top Visio alternatives, if not the best Visio alternative.
Process maps with cost information
One of the most notable features of Engage is its ability to present costing details alongside process maps. It can generate process models with full costing details. This is not something Visio can provide. It's a convenient feature to better scrutinize processes, especially for managers and supervisors.
Advanced analysis tools
Engage also shines with its range of powerful tools for analysing various processes. For one, it can determine bottlenecks so these can be prevented before any process plan is implemented. It can also identify whether a process is wasteful and can provide suggestions on what can be done to improve the process.
Additionally, Engage makes it possible to view processes from different perspectives. This is important as it allows users to see defects or potential issues that they otherwise wouldn't notice if they are mentally constrained by a specific perspective as they examine the processes. Engage allows users to look at processes from the eyes of a customer, staff, IT manager, or value chain.
Metrics comparison and rapid redesign
Another noteworthy feature of Engage is its ability to compare metrics and quickly redesign processes based on the metrics. This is important because it presents a glimpse of what can happen if certain processes are modified. For example, what savings will be yielded if a certain step is omitted or tweaked? Will break time or failure demand be reduced if a certain change is introduced?
Cross-platform and brainstorming
Engage can be used across different kinds of devices. It can be accessed using a desktop computer or mobile device. This provides convenience and flexibility for users, allowing process mapping to be done wherever. Information can also be shared in real-time so feedback can be viewed and responded to immediately.
Moreover, Engage comes with so-called digital post-its that facilitate brainstorming. With these, users can post ideas wherever they may be and discuss the ideas shared by other users. This makes the process mapping a collaborative endeavour, which is an advantage as new ideas help improve processes or challenge existing ones traditionally perceived to be the best. Likewise, with this collaborative setup issues or problems are promptly spotted and corrected.
Engage is easily one of the best business process modelling or mapping software options available. Examine its features and decide if it has what you are looking for.