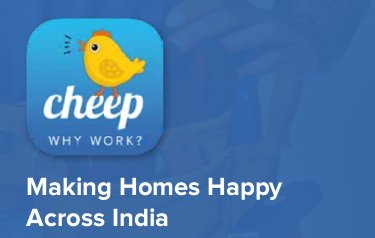 CHEEP is a home service app for best, cheep and quick home service solutions. It is an online app available both for iOS and Android. CHEEP offers a wide range of services for it's clients which comes along with high qualified professionals within their area and can get in touch with them pretty easily by contacting them and agreeing on term necessary to carry out the task.
There are three steps on how to use our app:
First, you select the service you need and when you want it to be delivered.
Second, you will get a number of offers from our wide network and compare which service is best suited for you. Reviews are also available. Third, after you found a good professional, you call and hire them and provide the service requested promptly.
CHEEP is very easy to use and guides you throughout the task of finding a good professional. Some of the services offered are home cleaning, laundry services, ac installation, grounds management, babysitting services, and many more services all delivered 24/7
REASONS FOR CHOOSING CHEEP
EASY TO USE
It's a very easy app to use as the user only undertakes three steps to find the service they are looking for and get connected to the relevant professional. Its also available both day and night.
EASY PAYMENT
Once you have found the service and got connected to the right professional, the mode of payment its very easy as you can pay through mobile or net banking.
ITS CONVENIENT
CHEEP unlike other apps is very convenient and demands of customers are given very high priorities.
ELIGIBLE CUSTOMER CARE
The app is very keen on its customers and takes their interest first above all.
APP OFFERS QUALITY INTERACTION
Within the app there's an option to chat, call and negotiate between service providers and the customers before hiring. This enables clients to get the service they are looking for at their best convenience so they don't feel like they have been exploited.
OFFERS PAYMENT REFUND
In a scenario where the job is not carried out by the provider, refund is guaranteed.
HAS AN EMERGENCY ALERT BUTTON
CHEEP puts the safety of its clients at the fore front and therefore incase anything happens there is an emergency button where one clicks for an instant action
Download the app now and enjoy reliable, quick and best home services from our able professionals
Website – http://www.cheep.world/