Does your temporary fridge hire solution prove to be costlier than you imagined because a continued and unexpected higher level of business or a long succession of events has meant that what was intended to be a few week's hire has rolled into months? Would you be interested in removing the continual expenditure in favour of a one-off purchase?
You may not realise that fridge trailer hire firms often have a stock of previously on-hire trailers for sale which are in excellent condition, meet legislation and can be purchased without fuss.
These ex-hire mobile fridges are available in various sizes, most likely are the 2.4m and 3m trailers which have capacities of 6 cubic metres and 8.5 cubic metres respectively.
Trailers for sale can permanently have a positive impact on your business, no longer will you need to assess whether your fridge facilities can hold a growing amount of stock.
Simply let the trailer you've bought and positioned in a convenient location, either inside or outside the premises, take the additional stock.
As the role of any business is to expand year on year, the cost of the fridge trailer will more than be covered by the greater number of guests that you can accommodate with absolute peace of mind.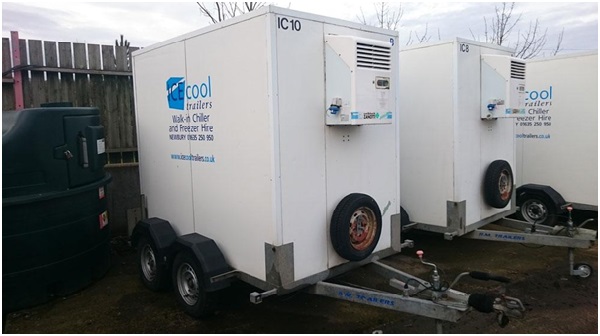 Trailers for sale are a wise investment and a key asset.  
You may want to consider a cold room if you don't want wheels or to move the unit and it will be housed indoors, here the units are normally 1.8m and 3m, with 5 cubic metres and 8.5 cubic metres capacity each.
Freezer trailers and rooms are also available in the same dimensions as the mobile fridges on sale.
The fridge trailers can be powered via mains or a generator so if you are travelling from show to show or building to building in a complex as a mobile caterer, sourcing power won't be an issue even if you are primarily situated in a barn or the middle of a field.
A note of caution if you are wondering whether a fridge van would be better, please remember that when you calculate the costs involved you will need to factor in fuel, vehicle and fridge maintenance and insurance will be essential for the vehicle, not just the stock in the van.
Fridge trailers from reputable fridge and freezer trailer rental and sales service providers like Icecool Trailers in Newbury, who also cover Berkshire, the Home Counties, London, the Thames Valley, South Wales and the Midlands, should serve you well so don't fear that they'll break down a short time after purchase.
When they are sold to you by an established and proven industry leader you can enjoy confidence in the firm's abilities and the facilities.
Among client lists you should find NHS trusts and hotel chains, proof that their resources are up to date, in excellent condition and eagerly sought after.
Seek fridge trailers for sale and maximise your business's potential.